ESSAYS



Performing the Archive | Archiving Performance in The Hopkins Review (October 2023)


"Live performance always stands in some tension to its archive—the broadsheets, scripts, costumes, props, photographs, and memories that may endure after the applause has quieted—a tension that these edited transcripts both mark and perform. In addition to tracing thoughts that follow each specific performance, these conversations also mark the deep arc of the pandemic, from Baltimore's initial shutdown to our tentative reconnections three years later."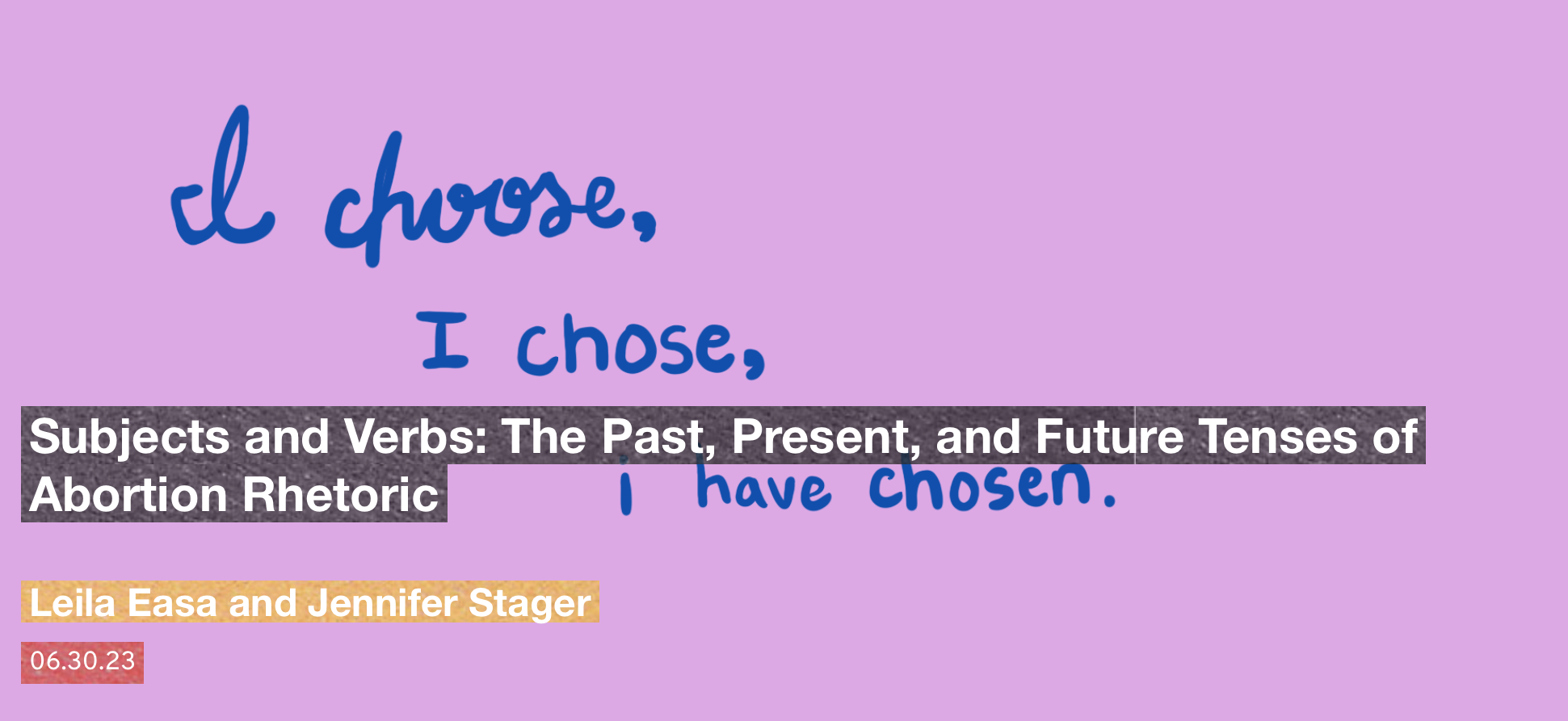 Article image for "Subjects and Verbs." Credit: Tyler A. Tennant

"Subjects and Verbs: The Past, Present, and Future Tenses of Abortion Rhetoric" with Leila Easa in Abortion Now, Abortion Forever Post45 Contemporaries


Abstract: U.S. activist abortion rhetoric can be viewed as a collective abortion story that shaped both policy and epistemology around reproduction in the United States and participated in the work of nationalism. Specifically, the framework of "choice" activated by many interest groups—itself a hedge against conservative "life" rhetoric—connected abortion access to Americanness itself. Yet in contemporary discourse, new frameworks have emerged that question the capitalist and individualist underpinnings of choice, instead emphasizing relationality and continuity between the human and nonhuman. We trace the history of this shift in the context of Lena Chen's participatory art installation, "We Lived in the Gaps Between the Stories," which presents abortifacients and emmenagogues to (re)imagine reproductive management through an alignment with plant life. Chen's project brings attention to ancient herbs in the present while also engaging the history of private and nonarchival practices of reproductive management that precede the nation state in modernity —the sharing of methods, materials, and treatments in networks that exist outside of legally sanctioned frameworks. Exploring such histories, practices, and materials allows us to consider an abortion story that moves beyond choice to foreground interdependence.


"Locating a Collective Lyric I" (guest-edited with Leila Easa) for The Hopkins Review, a folio on the relationships and tensions between the singular and the collective as explored in poetry, visual art, scholarship, and theory, among other genres. Confirmed contributors include Jane Bennett, Sascha-Mae Eccleston, Tonya Foster, Virginia Jackson, Michael Leong, Margaret Ronda, Related Tactics (Michele Carlson, Weston Teruya, and Nate Watson), and Kandis Williams. The full call is here.





"Sophia's double: photography, archaeology, and modern Greece" Classical Receptions Journal (2022) pp. 1–42.
Editor's Choice and *open access*


In the context of the entangled productions of scientific archaeology, photographic technologies, and the Greek nation-state, this article analyses the ancient Greek idea of the eidōlon (image, phantom, double) as a paradigm for photography. Sophia Engastromenou Schliemann presented herself for the camera as Helen of Troy and mobilized an ancient textual debate about Helen and her double and the Trojan War. This image of Sophia adorned in Trojan gold is widely known and little studied and, as this essay will explore, it circulated far beyond Sophia's control. Undergirding this article's historical contingencies is an exploration of the photograph as eidōlon.


"Toward an Archaeology of Care" appears in Ancient Art Revisited, Carl Knappett and Christopher Watts, eds. (Routledge 2023).


Abstract: A pyxis, or small, portable, lidded container, is an object often associated with women's private life and personal care. Artists working in the fifth century BCE in Athens crafted a number of these containers from clay and painted them with scenes of women in community with each other. These containers offer a meso-scale at which to analyze the materialization of women's communities of care in the ancient Greek past. Building from the philosophical framework of a feminist ethic of care to analyze this group of objects illuminates some of the networks of care undergirding ancient communities. An archaeology of care centers these networks of care and the role of careworkers and carework in forging and maintaining communities.


Reviewed in Pasts Imperfect on January 26, 2023.

"Overwriting the monument tradition: Lists, loss, and scale" RES: Anthropology and aesthetics (2021): 266-281.


Abstract: While our contemporary moment invites necessary engagement with fallism (the practice of toppling monuments of symbols of oppressive power), we wish to instead identify and narrate a parallel heritage to that of the traditional figural monument critiqued by such practices. We suggest that this parallel tradition, which runs from ancient Greece to contemporary times, can itself offer new forms of possibility to engage and include a more diverse set of voices while also remaining grounded in historical precedent. Building on Athena Kirk's theory of apodeixis, a practice of making a list visual, "Overwriting the Monument Tradition" traces this history of apodeictic monuments from the ancient Greek casualty lists set up in Athens in the fifth century BCE to Maya Lin's Washington, DC Vietnam memorial to the epigraphs for one thousand of the first one hundred thousand deaths from Covid-19 in the United States on the cover of the New York Times on May 24, 2020 CE to contemporary poetry, protest, and performance. Ultimately, we argue that this tradition mobilizes naming and the poetic power of the list to elevate not singular hegemony but instead a plurality of raised voices.

"Antiochene Echoes: Transformation and Representation of Narkisos and Ekhō at Daphne" Musiva & Sectilia" 18 (2021)


Abstract: This essay explores transfigurations of Narcissus and Echo in the mosaic floors excavated from the seaside town of Daphne (Harbiye) near the city of Antioch-on-the Orontes. These material and sensory transformations are particularly resonant at Daphne, a site named for the nymph who turned into a laurel tree to escape rape by the god Apollo. Of the extant examples depicting their myth at the site, only one includes a depiction of Echo in her physical form. In addition, the non-figural patterns framing these figural scenes mark Narcissus's transformation into flower, collapsing narrative time. Dispersed across different collections since their excavation in the early 20th century, this essay brings together the mosaic fragments from Daphne associated with Narcissus and Echo to analyze the imbricated artistic materializations of their metamorphoses.


"An Archaeology of Disability" with David Gissen and Mantha Zarmakoupi in Anna Anguissola and Chiara Tarantino eds. Aree archaeologiche e accessibilità: riflessioni ed esperienze, (Pisa: Pisa University Press, 2023), 19-37.

"An Archaeology of Disability" with David Gissen and Mantha Zarmakoupi in How Will We Live Together? edited by Hakim Sarkis (2021), 54-55.

"Space as Form: Sappho Now" Open Space (April 2020)


Following the performance [of extreme lyric i], artistic director Hope Mohr, writer and co-author of extreme lyric i, Maxe Crandall, and poet Dora Malech came together for a conversation on stage: "Space as Form: Sappho Now." It is a pleasure to offer excerpts of this conversation via this space, through which we might continue nurturing our collective and collaborative Lyric I.


"The Unbearable Whiteness of Whiteness" Art Practical (2018)

Aslı Çavuşoğlu, The Place of Stone ASAP (2018)


"Devoted to the shifting valences of the color blue, Çavuşoğlu's fresco maps transnational connections, situates ancient forms in contemporary discourse, and mines histories of pigments and materials to build up The Place of Stone from multiple loci."


On navigating academia and parenthood with Emily Wilson's Odyssey in "A Mother's Odyssey" Eidolon (Aug 31, 2018)

"The Materiality of Color in Ancient Mediterranean Art" in Essays in Global Color History: Interpreting the Ancient Spectrum ed. R. Goldman (Gorgias Press, 2016).

"Torn Bodies for Pleasure: Classicism and Monstrosity in Picasso's illustrations of Ovid's Metamorphoses" in Picasso & Rivera: Conversations Across Time (2016), is available here.

A Spanish edition of the complete catalogue and of my essay "Cuerpos destrozados por placer: clasicismo y monstruosidad en las ilustraciones de Picasso para las Metamorfosis de Ovidio", is also available.

Review of Jeremiah Barber, Alison Pebworth, and Rob Godshaw at Recology Artist-in-Residence (February 9, 2016)

"Hold On" Goop (15 Feb 2015) about navigating change in the aftermath of my husband's traumatic accident.

"Mending with Gold" in Scars: an anthology, edited by Erin Wood (2015). The book is available directly from et alia Press.

"'Let No One Wonder at this Image" A Phoenician Funerary Stele
in Athens" Hesperia (2005): 427–449.


Abstract: An autopsy of the Hellenistic grave stele of S ˇ M[.]/.Ant.patrow , discovered in the 19th century in the Kerameikos in Athens, reveals that its textual (Phoenician and Greek) and visual components differ significantly from previously published descriptions. The author reexamines the morphology of the monument, also considering its sacred address and the force that such a monument exerted on its context. This single monument to a Phoenician buried in Athens engages issues of bilingualism, religious symbolism, and, most importantly, self-definition, which structured the complex social interactions in Athens in the late 4th–2nd centuries BCE.